One of the blogs I really enjoy reading is Katie's
When Hello Means Goodbye
. I have enjoyed several things on her blog. Today she participated in
Top Two Tuesday
on The Undomestic Momma.
I quickly added this new blog to my google reader and will give Top Two Tuesday a try myself!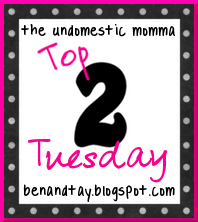 Today the topic was baby names! Hard for me to settle on just two to give ya though! Since I don't see any babies in our near future I will go along the path of Katie and give you the names I
thought
I wanted before I had children.
Boy
- I loved the name Rylan. I thought I made it up because I had never heard any one by that name. I'm pretty sure I have come across one or two now however.
Girl
- I also thought I wanted to name my girl Mallory. Don't care for it now as much but at the time I thought it was such a pretty name. I know, I know... you are all thinking
Family Ties.
It sure is funny how our tastes change!
Check out The Undomestic Momma for more names!